Governing Board Meeting - April 6, 2021 at 5:00 PM - CLOSED TO PUBLIC PER FEDERAL GUIDELINES (WILL BE LIVE STREAM)
Alma Valenzuela
Thursday, April 01, 2021
AGENDA - REGULAR BOARD MEETING - APRIL 6, 2021
GOVERNING BOARD LIVE STREAM:
https://www.youtube.com/channel/UCzgvAdzXahO2wtMhmvUa7CA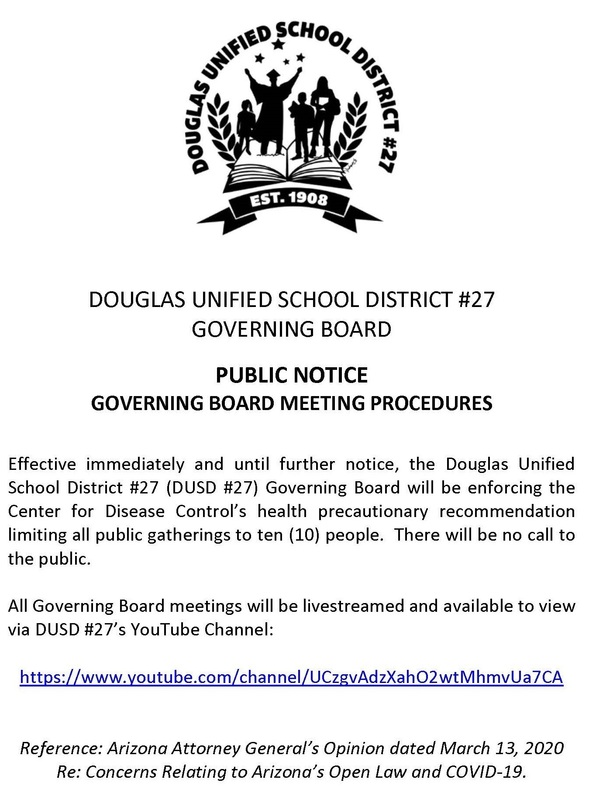 Our regularly scheduled board meeting is held on the first Tuesday of each calendar month unless a special meeting is scheduled. Regular meetings may be rescheduled or canceled by agreement of a majority of the Board. A written notice of the date, hour, place, and agenda will be posted 24-hours preceding the scheduled meeting (with the exception of an actual emergency). Meeting agendas are posted on the District website and the front entrance of the District Office. The approved yearly Board Meeting Schedule is available under the Meeting Schedule Section.
Board Meeting agendas and minutes can be viewed under the Agendas & Minutes Section.
Every regular Board meeting is open to the public and the Board welcomes the viewpoints of citizens of the District. Any individual or group desiring to address the Board shall complete a "Request to Address Board" form and give this form to the Superintendent's Secretary prior to the start of the Board Meeting.